If your child needs dental care, the leading pediatric dentist in Bergen County at Kinder Smiles is accepting new patients and is ready to treat your child today! It may seem like baby teeth are not that important, but taking care of them will help their underlying adult teeth develop correctly.
From the day that their first tooth erupts, your child needs professional dental treatment as part of their oral healthcare plan. And you do not have to travel far to seek it. We have been providing quality dental treatment to children for many years and we have the experience to make their visits easier for them and you.
Learn more below if you require additional information.
What Is A Pediatric Dentist?

A pediatric dentist is a professional oral healthcare provider who has additional education and training giving them the expertise to treat children. Pediatric dentists are particularly knowledgable about baby teeth and are experts in child development and psychology, which gives them an edge over general dentists. Part of this expertise is the ability to keep children calm and comfortable during treatment using a variety of techniques.
Their education and training allow pediatric dentists to diagnose and treat childhood dental problems that arise in the teeth and jaws, which continue to develop as your child grows from infant to toddler to adolescent to adulthood. Having a dentist who can adequately monitor and treat your child's teeth as they reach each stage is the best way to prevent and/or get ahead of minor problems before they become complex and more expensive to treat.
Meet The Leading Pediatric Dentist In Bergen County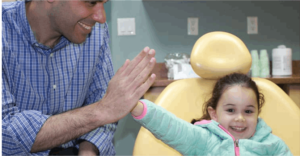 Dr. Darryl Engel is a graduate of the University of Medicine and Dentistry of New Jersey. He went on to spend two years in a pediatric dentistry program at Montefiore Medical Center in the Bronx. Dr. Engel is recognized by the American Board of Pediatric Dentistry as an elite specialist in the field because of his development of an approach to treating children, including those with special needs.
He is also on staff as a pediatric dentist at Hackensack University Medical Center and has his sedation certification.
You may also see Dr. Veronica Choi, who is a graduate of the NYU College of Dentistry and completed her specialty pediatric training at Montefiore Medical Center. She has a gift for calming children and making them feel comfortable.
Treatments Pediatric Dentists Offer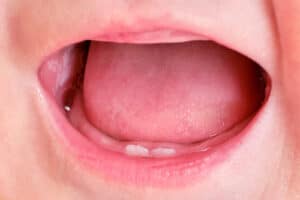 As a pediatric dentist, Dr. Darryl Engel and the Kinder Smiles team offer a variety of treatments to our patients to keep their teeth healthy and their smiles happy.
Baby's First Visit
At around 6-months-old, you should see your child's first tooth begin to erupt from their gums. Prior to this, your baby might display signs of teething such as pulling on their ears or crying more than usual. Once you see the tooth, it's the perfect time to schedule that first appointment so we can make sure the tooth is healthy and that it is developing correctly. This establishes dental visits as part of your child's care and begins the process of adapting them to dentist appointments.
Dental Exams
Dental exams are part of early treatment and include a visual examination of your child's teeth but may also include x-rays or other imaging to get a look at your child's teeth and under the surface of the gums in detail.
Cleanings
A simple cleaning removes bacteria and plaque that you or your child may not have been able to reach using a toothbrush and floss. It will also make their smile brighter. It's best to schedule your child for a dental cleaning at least every six months. This prevents the potential development of cavities and gum disease.
Fillings
Speaking of cavities, one of the services we provide is cavity fillings. A cavity is a part of the surface of the tooth that has damage or tooth decay in the form of a small hole. Dr. Engel will remove the decay and then fill in the hole with a special material to maintain the shape and feel of the tooth.
Tooth Extraction
If your child needs a tooth extraction, it may be because the tooth is no longer viable and cannot be saved. Dr. Engal will do what he can to save your child's tooth, but he will inform you if he needs to pull it. It could be as simple as a baby tooth obstructing the growth of a permanent tooth, or a more complex extraction.
Orthodontics
Your child's teeth and jaws may have a misalignment that requires correction. Braces and other orthodontic treatments such as clear aligners gradually shift teeth into alignment over a period of several months.
Special Needs
Dr. Engel and Dr. Choi provide quality dental care to special needs children. If your child requires special care, please let us know in advance so we can prepare for your visit.
Sedation Dentistry
Your child may need nitrous oxide, oral sedation, or IV sedation for a procedure. We will always ask your permission before sedating your child. Learn more about sedation dentistry.
Emergency Care
Dr. Engel is available to provide emergency treatment. An emergency is a potentially life-threatening problem or a problem that cannot wait for a regular appointment. This can include trauma, infection, a broken tooth, and bleeding that won't stop.
Financial Information
We understand that parents have a budget and dental care is often not part of it. But you should not wait to bring your child to the dentist. Minor problems that can be fixed now at a low cost could become major problems that cost you more later on. Kinder Smiles offers affordable monthly payment plans with zero interest and we accept most insurance providers and all major credit cards. We will even help you file insurance claims.
Contact Us Today!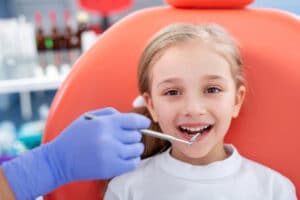 Dr. Engel is a leading pediatric dentist in Bergen County. Kinder Smiles proudly serves Bergen County and surrounding communities in New Jersey. Parents can make an appointment with us online for more convenience and you can find patient forms as well so you can fill them out at home. If you want to schedule an appointment by calling our office, dial 201-262-0211 today!