One of the most important things a parent can do for their child is to make sure their teeth are healthy and develop normally so they will have a great smile as they grow up into adults. And that's why Kinder Smiles offers interceptive orthodontics in Bergen County so you can keep your child's teeth on track to develop the right way by catching problems before they become major problems down the road.
Dr. Darryl Engel, a pediatric dentist, has years of experience providing interceptive orthodontic treatment to children, but if you're not familiar with the term or the process, please scroll down to learn more.
What Is Interceptive Orthodontics?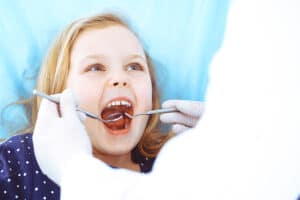 As the term implies, interceptive orthodontics means intercepting your child's orthodontic problems early before they become more challenging and more expensive to treat later in life. The process consists of two phases of early orthodontic treatment while your child's teeth, jaws, and gums are more easily manipulable. Once they reach adulthood, orthodontic problems are much more difficult to fix, so it's best to identify and treat problems as early as possible.
Of course, you may have concerns that your child will automatically need braces, but that's not always the case. Just because you seek an early examination of your child's teeth, it doesn't mean your child will have to spend 12-18 months in braces as there are other options to correct misalignments, especially early on.
Why Are Interceptive Orthodontics Necessary?
The goal of interceptive orthodontics is to identify and treat developing orthodontic problems early while they are minor so they do not become major problems later on. Many of these problems are the result of genetics, but some occur because of behavior and circumstance. For instance, thumb-sucking can cause overbite or underbite. Missing teeth can result in other teeth shifting to fill the gaps, thus obstructing permanent teeth below the gums. Perhaps your child even suffered trauma or injury.
Regardless of how the problem came to be, interceptive orthodontics can help. There are several orthodontic misalignments that Dr. Engel will look out for when he examines your child's teeth.
Overcrowding
Underbite
Overbite
Crossbite
Jaw unevenness
Dental arch problems
Early tooth loss
Problems chewing and speaking
Drifting permanent teeth
Impacted teeth
Protruding teeth
Crookedness
When Do You Apply Interceptive Orthodontics?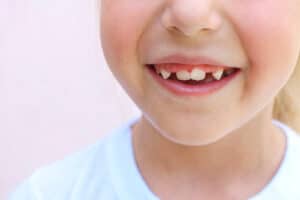 The American Association of Orthodontists recommends taking your child to receive an orthodontic evaluation by the time your child is seven-years-old. At this point, your child has already lost some baby teeth and a few adult teeth have come in. These adult teeth are most likely molars, which tend to erupt first.
Dr. Engel will conduct a thorough examination during a complimentary consultation to determine if your child is a good candidate for early orthodontic treatment. Again, the goal is to catch and identify problems early so we can treat them before they become bigger problems. Not every child is a good candidate for early treatment, but around 15 to 20 percent qualify and benefit from it.
The first phase of treatment occurs prior to the age of 12 or 13. Once your child reaches that age, the second phase begins. Parents will need to have patience because this process will take years.
How Does The Process Work?
After a consultation in which Dr. Engel determines if your child is a good candidate, he will fully explain the problem and treatment options to you. Kinder Smiles is committed to giving parents all the information they need to make the best decisions about their child's oral health.
At this early age, treatment usually means your child will wear a space maintainer, a palatal expander, or limited braces. This treatment lasts around 12 months or less so they will not have to wait too long to complete the first phase. Once the first phase is complete, we give your child a break for a few years until they reach the age of 12 or 13 when phase 2 will begin. Don't worry, Dr. Engel will still keep an eye on your child's teeth during the rest period to monitor progress as the rest of your child's baby teeth fall out and adult teeth replace them.
Phase 2 may require your child to wear braces or Invisalign Teen, both of which are effective orthodontic treatments that gradually shift teeth into correct alignment over a period of 12-18 months. Treatment time can be shorter or longer depending on the severity of the problem and how fast the teeth shift into place.
When treatment is complete, your child should have a complete and healthy smile.
What Are The Benefits Of Interceptive Orthodontics?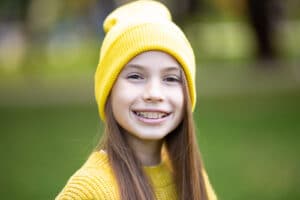 Early orthodontic treatment has many benefits, some of which you and your child should begin to notice fairly soon after treatment begins.
Your child should be able to chew food and speak more normally without discomfort.
Prevent impacted teeth and teeth from erupting at an angle.
Create space to help adult teeth grow straight.
Shift protruding teeth into a safer position to prevent potential injury.
Avoid tooth extraction or surgery.
More affordable future treatment.
Correct facial asymmetry.
Quicker future appointments.
Boost self-esteem and confidence.
Healthy smile.
What Is The Cost Of Interceptive Orthodontics?
While there are several benefits to seeking early orthodontic treatment, parents are likely wondering what the cost will be. Because we are talking about orthodontics, the price is typically higher than general dentistry such as fillings and cleanings.
That being said, phase 1 of early treatment usually costs between $450 to $1,500. It really depends on the severity of the problem and what kind of treatment your child needs. The same is true of phase 2, but the cost of braces or Invisalign Teen will range between $3,500 and $8,000 because these treatments are more intensive and take longer to complete.
Of course, there are financing options available so you can afford treatment. Kinder Smiles offers interest-free low monthly payment plans that work with just about any budget. Furthermore, we accept all major credit cards and most insurance providers. Dental insurance usually covers at least part of the cost of treatment and we will gladly help you file insurance claims.
Contact Kinder Smiles Today!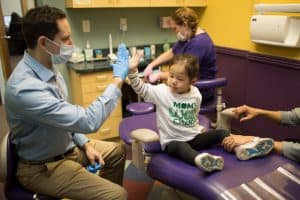 Don't wait for your child's dental problems to get worse. Seek early orthodontic treatment for them as soon as possible to prevent potential problems from becoming major problems. Your child's smile is important to you and it's important to us. We proudly serve Oradell and surrounding communities in Bergen County NJ. To make an appointment, call our office at 201-262-0211 today!