Dental care is an important part of a child's overall health and well-being. A child's first dental visit should take place by their first birthday, or within six months of the eruption of their first tooth. Despite this, we understand that taking your child to the dentist for the first time can be a daunting experience. To help put your mind at ease, here's a preparation list from our pediatric dentist in Bergen County
How to Prepare Your Child for their First Dental Visit
#1 – Show them fun videos or read their books about going to the dentist.
Put a positive spin on your child's first dental visit by letting them watch fun clips or read good books about it. It can be something that features their favorite animated characters or child-friendly personalities.
When you do this, you are giving them a perception that first visit to the dentist isn't supposed to be scary. It also gives them an idea of what's going to happen so they won't be clueless about what it means to visit the dentist.
#2 – Brief them about their dental visit on the same day of the appointment.
Kids' imaginations can run wild. It's best to give them a gentle heads up on what will happen on the same day they are going to the dentist. This will help ease any anxiety while visiting dentist or fears they may have.
As you do, let them know that you will be with them throughout the process. Tell them that you have chosen a friendly and trustworthy doctor to work on their dental needs too.
#3 – Choose a perfect time.
Schedule your child's first dental visit at a time when your they are well-rested and not hungry so that they are in good spirits. If you have already set an appointment, make sure that they get adequate sleep and food beforehand.
You can also choose a day when there are no other activities scheduled so that your child isn't rushed and anxious.
#4 – Prepare to make it a positive experience.
Choose a pediatric dentist who has a child-friendly office environment with fun decorations, toys, and staff that are great with kids. This is important because it sets the tone for the child's visit and will make them more comfortable.
It's also important to remember that your child is watching your reactions. If you appear anxious or stressed, they will likely feel the same way. Therefore, try to remain calm and positive throughout the appointment.
#5 – Apply positive reinforcement.
If you see that your child is already showing some level of fear or stress about their first dental visit, employ positive reinforcement strategies. You may tell them that it's completely normal to be afraid about it and that they are very brave for conquering that fear.
It would also be helpful to promise to reward them afterward, such as buying their favorite toy or food. This will let them know that going to the dentist can be a fun and positive experience.
#6 – Make sure that you are teaching them about oral care regularly.
Even before taking them to the dentist, you should already be instilling in them the importance of oral care. This means that you should brush and floss their teeth regularly, and visit the dentist at least twice a year for professional cleanings.
When you do this, you are not only preparing them for their first dental visit but also teaching them the importance of taking care of their teeth long-term. This way, they will be more cooperative and less afraid when they finally see the dentist.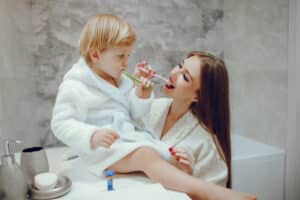 Best Pediatric Dental Clinic
Now that you know how to prepare your child for their first dental visit, the next step is to find a reputable dentist who can provide quality care.
KinderSmiles is ready to give your child the dental care they need and the best possible environment for it! We are a pediatric dental office that specializes in providing child-friendly services. It's our commitment to make sure that they are comfortable throughout their appointment.
We understand how important it is for parents to be involved in their child's dental care. This is why we always welcome parents in the treatment room. This way, you can be there to support and comfort your child while they are being treated.
Our office is located in Oradell, New Jersey, and we are open from Monday to Friday at varying schedules. You may call us at (201) 262-0211 or visit our website to schedule an appointment or request more information about our services. We look forward to meeting you and your child soon!