Parents who are looking for a kids dentist in Pasacack Valley are welcome to make an appointment for their children at Kinder Smiles to see Dr. Darryl Engel, a leading pediatric dentist in Bergen County, New Jersey. Whether your child simply needs a cleaning or more complex treatment, Dr. Engel and the Kinder Smiles team have years of experience providing dental care to kids of all ages.
When Should A Child First See A Dentist?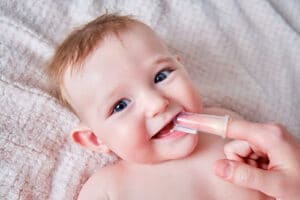 Dental care is important. It's especially important at an early age because dentists can spot potential problems before they become major issues later on that are more complex and more costly to treat. Taking your child to the dentist early on also establishes dentist visits as a normal part of their dental care routine to build trust and prevent fear.
One of the best times for your child to see a dentist for the first time is around 6 months old after the first baby tooth erupts from the gums. This allows the dentist to check the tooth to make sure it's healthy and growing correctly.
What Can My Child Expect?
Your child can expect to be as comfortable as possible while they are here. Our staff specializes in providing treatment to children of any age. We also have experience accommodating and treating special needs children as well. Dr. Engel treats every child as an individual with unique needs. He understands how to talk to children about their oral health and has many tricks up his sleeve to keep your child calm and still during their time in the dental chair.
Meet Dr. Darryl Engel And Dr. Veronica Choi
Dr. Darryl Engel is kids dentist in Pasacack Valley. He is a graduate of the University of Medicine and Dentistry of New Jersey. He spent two years in a pediatric dentistry program at Montefiore Medical Center in the Bronx. Pediatric dentists have additional education and training that makes them particularly suitable for treating children because they understand child psychology and development.
Dr. Engel is recognized by the American Board of Pediatric Dentistry as an elite specialist in the field because of his development of an approach to treating children, including those with special needs. He is also on staff as a pediatric dentist at Hackensack University Medical Center and has his sedation certification.
You may also see Dr. Veronica Choi, who is a graduate of the NYU College of Dentistry and completed her specialty pediatric training at Montefiore Medical Center. She has a gift for calming children and making them feel comfortable.
Regardless of which of our pediatric dentists your child sees, their teeth are in good hands. Come visit a kids dentist in Pascack Valley today!
Services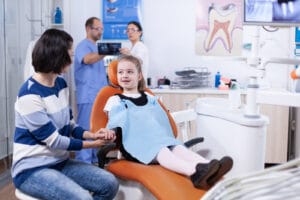 Kinder Smiles offers a range of services to our patients with the goal of keeping your child's smile healthy and happy.
Parents should schedule a dental cleaning for their child every six months. This allows us to remove plaque buildup from the nooks and crannies of the teeth that are hard to remove through brushing and flossing alone. This also gives Dr. Engel a chance to examine your child's teeth for any problems.
One of those problems could very well be a cavity. A cavity is a small hole in the enamel of a tooth. Dr. Engel will need to remove any tooth decay and place a filling in the cavity to seal it from further damage.
Parents now have the option of utilizing dental sealants to prevent their child's teeth from developing cavities. Dental sealants are a thin layer of plastic that bonds to your child's most vulnerable teeth to protect them. Think of dental sealants as a shield that protects the enamel from sugar and other food particles. The procedure is painless and primarily benefits children between the ages of 6 and 14.
The Centers for Disease Control reports that sealants reduce the risk of cavities in children by up to 80 percent, which keeps children's teeth healthy and saves parents from having to spend money on fillings.
If absolutely necessary, Dr. Engel may need to safely sedate your child to perform a procedure. We will not sedate your child without your consent. The most common type of sedation is nitrous oxide or laughing gas, which will cause your child to be giggly and groggy without making them fall asleep. Parents are welcome to be in the room with their child. You can provide encouragement and comfort. The effects of sedation should wear off after several hours.
Dr. Engel also provides emergency dentistry in the event your child needs it. Maybe your child lost a tooth due to a sudden impact while playing sports. Maybe your child woke up with a painful toothache. Knowing when to seek emergency care is important, so parents should familiarize themselves with what is a dental emergency and what isn't. If you are unsure, don't hesitate to call our office to ask.
Does Kinder Smiles Offer Interceptive Orthodontics?
Interceptive orthodontics is also known as early treatment. The goal of early treatment is to diagnose and treat misalignments before they become more difficult and more expensive to treat later. Phase one of this treatment begins when your child reaches the age of 7 when their adult teeth begin erupting. It's possible your child may need a space maintainer, palatal expander, or light braces to help their teeth erupt correctly in proper alignment. This phase will be complete after 12 months.
After a rest period of a few years, phase two of treatment begins when your child is 12 or 13. That's when they may need a full set of braces or clear aligners.
Treatment Cost
Kinder Smiles offer affordable monthly payment plans to patients. We also accept all major credit cards and most dental insurance providers. Dental insurance covers many dental treatments so it can save patients a lot of money. We will gladly help you file insurance claims.
Kids Dentist In Pasacack Valley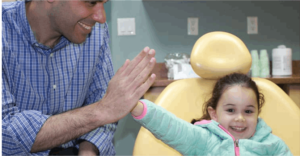 Kinder Smiles proudly serves Pasacack Valley in Bergen County, including the communities of Montvale, Park Ridge, Woodcliff Lake, Hillsdale, Westwood, River Vale, Washington Township, and Emerson. To schedule an appointment for your child, call our office at 201-262-0211 today!