It's not uncommon for children to need braces treatment to correct a variety of teeth and jaw misalignments. In fact, over 50 percent of children in the United States will need braces at some point. Is your child one of them? What is the best age to get braces for a child?
To answer the first question, you'll need to make an appointment for your child to see Dr. Darryl Engel, a leading pediatric dentist at Kinder Smiles in Bergen County for a complete examination. To answer the second question, you simply need to continue reading.
When Should A Child First See A Dentist Or An Orthodontist?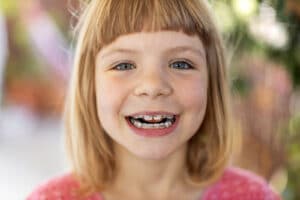 Before we can determine if your child will need braces, it's important for your child to see a dentist. Parents should schedule the first dentist appointment for their child as soon as the first tooth erupts around six months after birth. This allows the dentist to make sure the tooth is healthy and growing correctly.
When your child reaches the age of 7, that's when the first permanent tooth, usually a molar, will erupt through the surface of the gums to fill a space left by a missing baby tooth. This is the best time to schedule that first visit to an orthodontist. The orthodontist will examine the tooth to determine if it is growing correctly. X-rays or other imaging technology can show us the underlying adult teeth below the gums. From this, we can predict if your child will need orthodontic treatment.
Interceptive Orthodontics
This early orthodontic treatment is known as interceptive orthodontics, a two-phase treatment plan to correct teeth and jaw misalignments while the teeth and jaws are more easily manipulable. Because your child's teeth and jaws are still actively growing and shifting, it makes correcting dental problems much easier. Once they reach post-puberty, it's much more difficult to shift teeth because they have settled into position.
Phase one of treatment begins at the age of 7. However, your child may only need to wear a space maintainer, palatal expander, or limited braces for 12 months. Your child will get a rest period of a few years until phase two begins when they reach the age of 12 or 13. This phase usually requires braces.
The Best Age To Get Braces For A Child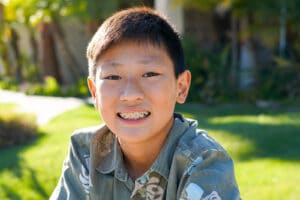 So, what is the best age to get braces for a child? Again, the goal is to intercept and begin correcting orthodontic problems such as overbite, underbite, crossbite, open bite, gaps between teeth, crookedness, and overcrowding early to avoid more drastic and costly treatment in the future. That's why we recommend braces for children between the ages of 9-14. This is the best time for your child to get braces because their teeth and jaws are easier to shift into correct alignment.
Types Of Braces
Luckily, children of today are not limited to the clunky braces of the past. Technological innovations have given them a variety of braces options to choose from that offer convenience, effectiveness, and aesthetics.
The most common option is traditional metal braces. Traditional braces are made from titanium or stainless steel, making them strong and more durable. Small brackets are bonded to the front of each tooth using an adhesive. An archwire anchors the brackets and serves as the mechanism the dentist or orthodontist tightens to put pressure on the teeth to shift them. Elastic bands provide further support and pressure.
You can even add more style to your braces by picking different colors for your brackets and elastic bands.
Ceramic braces offer patients a lighter and more invisible treatment option. The brackets can be clear or natural tooth color, as can the archwire. This option is for patients who may have concerns about their appearance during braces treatment. It's an effective choice, however, ceramic braces are not as strong as traditional braces, making them vulnerable to damage. The brackets are also vulnerable to staining.
Perhaps the most innovative option is self-ligating braces. If your child wants to reduce their time in the dental chair and eliminate the need for elastic bands, this option is for them. The brackets feature a special door that clips the archwire into place, giving Dr. Engel easier access to the wire to make adjustments. That means no more elastic bands to anchor the wire.
Lingual braces offer a treatment that is totally invisible because the brackets are bonded to the back of the teeth instead of the front. However, be aware that lingual braces, while an effective option, will be more uncomfortable and more expensive because of the difficulty of installation. Fortunately, Dr. Engel works closely with Dr. Adam Schulhof of The Schulhof Center, an orthodontist who specializes in providing lingual braces to patients.
One of the most popular orthodontic treatments in the world, Invisalign is a series of clear removable aligners. Like braces, Invisalign gradually shifts teeth over a period of time to correct a variety of misalignments. But it's easier to clean and there are no dietary restrictions because the aligners are removable. The aligners are custom-made for your teeth using multiple layers of medical-grade plastic.
Patients wear the aligners for 22 hours every day and switch to a new set every two weeks. Your child's Invisalign aligners will feature a blue dot that will fade away the more they wear them. This gives them a reminder to wear them more if the dot is visible while also allowing parents to check on their progress.
Reasons Children May Need Braces
Orthodontics is not just about misalignments. It's about improving your child's overall health because orthodontic problems can cause other health issues. For instance, your child may have difficulty eating or breathing. They may have trouble sleeping. The misalignment may even be affecting their facial appearance. Braces can correct these problems as well, which is why the best age to get braces for a child is between the ages of 9-14.
Contact Kinder Smiles Today!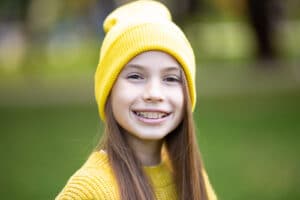 Kinder Smiles in Bergan County NJ believes every child deserves a happy and healthy smile. That's why we offer affordable monthly payment plans to our patients. Don't wait to seek treatment for your child. Early treatment is best to prevent more intense and more costly treatment later on. It's one of the greatest decisions a parent can make for their child. To schedule an appointment, call our office at 201-262-0211 today!